True North
Album:Open Road, Broken Heart
Label: Self Released
Tracks: 12
Website:http://www.truenorthband.com
A Pacific northwest bluegrass quartet lining up as singer and ukulele player Kristen Grainger, who handles most of the songwriting, Dan Wetzel and Dale Adkins, variously providing guitars, banjo, uke and mandolin, and bassist Suzanne Pearce-Adkins and, this is their fourth album, one which shades the bluegrass with more folksier Americana. It opens with the cello adorned 'One-Way Ticket', from whence comes the album title, a snapshot of three characters in search of escape and freedom, the first still wearing her wedding dress, all finally allowing themselves a smile despite the downbeat circumstances.
'Small Wonders' picks up the pace with a banjo-driven bluegrass bounce, but the tempo drops again for the country hued 'Dark Horse Bar & Grill', a dreamily acoustic love letter ballad to the places we go to forget out troubles with "a special vault, for storing things that aren't your fault."
The mix of melancholia and optimism informs much of the album, there on Sunday Night Blues with its lonesome reminiscences of the past and things left behind, the banjo dappled You Come Around and, especially, on the slow waltzing, funeral-set 'Ratio Of Angels To Demons', a song about a Wetzel harmonising on the chorus where she sings how "you played scissors and fate it played rock and wins every time."
There's four covers here, 'The Eye' a folk-country ballad from Brandi Carlisle's The Firewatcher's Daughter, Pearl Jam's Eddie Vedder's 'Without You' from his 2011 Ukulele Songs, 'Mighty Bourbon', a bluesy drink and drugs song by Justin Evan Thompson, and Fred Eaglesmith's lovely 'Wilder Than Her'. Wetzel sings lead on all these, as he does on 'I'm Gone', a jaunty leaving song ("you take the house, I'll take the truck") co-penned with Grainger, who provides harmonies.
The remaining track and a particular highlight is the gently jogging folksy cycle of life-themed duet 'Seed, Lead, Flower, Seed' that calls to mind the best of Gordon Lightfoot, and is another very good reason to set your compass in their direction.
Mike Davies
"The beautiful songs, the delicate and subtle acoustic sound (with some echoes of bluegrass every now and then) and those wonderful harmony vocals (sometimes reminding me the golden era of the West Coast music) make "Open Road Broken Heart" a true jewel and a very appealing and catchy album.
I immediately started playing you music in my radio show…"
Massimo Ferro,
Highway 61
__________________________________________________________________________________________________________________________________________________________________________________
TRUE NORTH: Elsebound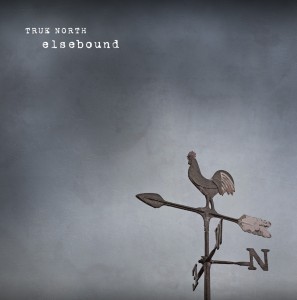 True North
Elsebound
True North
---
Particularly in the "Internet Age" of the past twenty years or so, the discussion of what is and what is not "bluegrass" has pushed the boundaries of the music to the point that we pretty much have a spectrum these days ranging from the diehard purists at one end, who say that if it doesn't sound like Monroe, then, as Big Mon himself would have said, "It ain't no part of nothin'," to the ultra-contemporarians for whom, as long as it's (mostly) all-acoustic and has a banjo here or there, sure, it's bluegrass. That the True North folks consider themselves, from a marketing perspective at least, to be a bluegrass band is evident from the fact that their website is truenorthbluegrass.com. Exactly where along that spectrum they fit in is open to discussion, but given the fact that the publicity material accompanying Elsebound contains terms like "indie-bluegrass" (whatever that means) and, yes, "contemporary" is pretty indicative. So, for those whose musical tastes lean exclusively toward blazing three-finger licks and high, searing tenor vocals, then True North is probably not a band that will satisfy those needs.
What they are is an acoustic quartet (two couples, Kristen Grainger and Dan Wetzel, with Dale Adkins and Suzanne Pearce) with a clear sense of who they are, where they want to go, and how they want to get there. While there are all too many "real" bluegrass bands that are all too willing to engage in the democratic "every band member gets a lead vocal" scheme of things and sacrifice musical coherency as long as everyone, including the bass player gets their share of solo breaks, there is nothing haphazard about the thirteen selections on Elsebound. These folks know exactly what they want to sound like, and they've achieved it nicely here.
The keystone of that sound is Grainger, whose only instrument is her voice, a slightly husky soprano, tending toward the alto range, that is sweet and vibrant yet contains inflections that will remind many bluegrass fans of Kate MacKenzie, or even Iris DeMent. At the risk of beating the "spectrum" metaphor to death, it is still a sin among many of the purists for a band member, female or male, to be a vocalist only and not play an instrument, but Grainger's got all she needs to make it work. Wetzel adds an occasional, subtle banjo backdrop, but mostly plays a fluid rhythm guitar. Adkins is an experienced flatpicker who has a few hot breaks, but is more noticeable for his tasteful fills and accents. Pearce, on bass, is likewise restrained while staying nicely away from the 1-5 rut. As a whole, they're sometimes jazzy, but not really a jazz band; bluesy at times, but not a blues band. And no, probably not really a bluegrass band.
Grainger is also the writer of eight of the thirteen tracks, and covers a lot of territory. "Angelfish" seems vaguely allegorical in a Biblical sense, while the following track "The Poet and the Carpenter" has absurdist elements reminiscent – to at least one listener – of Douglas Adams and his Restaurant At The End Of The Universe. "Be Here Now" is the story of a lifelong love affair lived out to a Beatles soundtrack, while "Come & See What I Got For You" is flirtatious and playful. "Shiny Black Shoes" comes closest to straight-up bluegrass. The one hiccup comes on "BFD", a Don Henry/Craig Carothers song popularized by Kathy Mattea. Yes, "BFD" means what you think it does, but it's never explicitly sung, and the song is radio-friendly. It's a clever ditty about a love affair told through the acronyms that have become an inescapable part of our lives, and the version here, while not bad, just doesn't seem to have quite the same life and verve as the rest of the disc.
Whether or not True North is a bluegrass band is really beside the point. They're a talented, stylish, experienced quartet performing intelligently and entertainingly arranged acoustic music, and doing it very well.
__________________________________________________________________________________________________________________________________________________________________________________
True North – Elsebound
For the first few decades of bluegrass music, it tended to lean toward the high, lonesome sound invented by Bill Monroe, or an old-timey vibe like the Carter Family or the Osborne Brothers. Then in the 70′s a few artists emerged that pushed the boundaries of the genre; John Hartford, New Grass Revival, Hot Rize, to name a few. Hot Rize in particular managed to bring a relatively polished sound that was more listenable to an audience less familiar with back roads twang. Listening to the latest album from True North I got that same feeling. CallElsebounda gateway drug to hard bluegrass music.
Primary songwriter Kristen Grainger also takes the lead on vocals for much of the album. Her clear, warm voice brings the same kind of richness and familiarity to songs likeTwist In the WindandHard Placethat have made Rhonda Vincent and Alison Krauss so popular. Vocally, the crowning achievement of the disc isOne Voice. Starting with just Grainger and a simple ukelele accompaniment the song builds by adding each member of the group until you get the full 4-part harmony and instrumentation, before finishing with just the one voice. Showing her versatility, she also belts out a fine, fine traditional-sounding number withShiny Black Shoes.
Another one of the appeals of Elsebound is that it keeps you listening with not just the virtuosity within individual songs, but also the variety across the album. In addition to the typical bluegrass elements, the band veers into a jazzy vein with Come And See What I Got For You. They cover a catchy Don Henry tune, BFD, that's an ode to TLA's. Rattlin' Bones, a Shane Nicholson/Kasey Chambers composition, is kind of hard to describe, but when I checked out the original I certainly like this interpretation better. They even take some inspiration from 70′s California country rock sound with The Poet And the Carpenter.
From the first time I listened to Elsebound I had the feeling that I'd heard it before. And yet most of the album is new songs from Grainger, so it just seems that way. The end effect, then, is one of presenting not just what bluegrass is, but what it can be.
 _____________________________________________________________________________________________________________________________________________________________________________
Review of Album Elsebound
Written by Joe Ross
Roots Music Report CD Reviews
www.rootsmusicreport.com
October 13, 2014 – 12:00am EDT
It's been nearly a decade since True North released their debut album, "Cobalt Miles of Sky." Then, they followed a year later with "Pluck," that I found to have "original material, deliberative arrangements, graceful guitar and gorgeous vocals." Now in 2014, we're treated to "Elsebound," an album that has been in Roots Music Report's Chart of Top Ten Folk Albums since June 25, 2014. "Elsebound" is an imaginative word that describes a train in their cover of "Northbound 35." It's also a good descriptive moniker for this band's expressive musicality that sparkles with creativity and individuality.
While the fine Oregon-based acoustic group still doesn't include many liner notes (other than song and musician credits) about the band, perspectives and songs, you can find out more about them at truenorthbluegrass.com. Over the years, the band lineup has remained stable with Kristen Grainger (vocals, ukulele), Dan Wetzel (mandolin, mandola, guitar, ukulele, mountain banjo, vocals), Dale Adkins (guitar, 5-string banjo, ukulele, vocals) and Suzanne Pearce (bass, vocals).  It might be because they are two married couples. Guest artists on "Elsebound" include Peter Miller (cello) and T.J. Morris (percussion).
As with their previous releases, "Elsebound" includes many novel, original songs from Grainger who has done very well in songwriting contests at Kerrville, Wintergrass and Telluride. On this album, "Be Here Now" earned her one of ten finalist slots at the 2014 Telluride Bluegrass Festival songwriting contest. "Hard Place" opens the album with a leisurely and descriptive tribute full of poignant imagery. "Angelfish" is a bluesy offering with a graceful twist to the whimsical. As with several of Grainger's compositions, "The Poet & the Carpenter" is a plaintive contemporary folk ballad, this one embellished with T.J. Morris' light percussion. True North is attuned to a myriad of genres, but they channel their bluegrass sensibility on "Shiny Black Shoes." A very emotionally-charged record, True North doesn't shy away from "putting themselves out there" with maturity, stability and gritty realism.
True North's cover of Hayes Carll's "It's a Shame" presents a bluegrass-infused message of tender sentiment permeated with lilting melody and gentle rhythmic drive. Similarly, their rendition of "Rattlin' Bones" is a slice of Americana with a sepia-like tone. "Northbound 35" is a thoughtful part of the musical journey, and "BFD" is humorous alphabet soup.
Full of nice swingy groove, Grainger's "Come & See What I Got For You" also has sweet vocal harmony and a spotlight on ukulele. Peter Miller's cello adds a nice, soothing effect to the album closer, "Acceptance," a song that emphasizes the band's calming, well-executed approach to music.
Whether doing originals or covers, True North's music is relaxing and comforting.  Their focus and originality have evolved even further towards contemporary folk and Americana, and they continue to present songs with plenty of reflection, depth and thoughtfulness. True North's crafty mix provides a very satisfying listen, full of charm and appeal.  (Joe Ross, Roots Music Report)
____________________________________________________________________________
Contemporary bluegrass quartet True North soar on 'Elsebound'
'Elsebound'
True North (self-released)
4 stars out of 5
Oregon-based bluegrass quartet True North have the type of chemistry you'd expect from a band made up of two sets of married couples in Kristen Grainger & Dan Wetzel and Dale Adkins & Suzanne Pearce Adkins. True North take full advantage of that chemistry on terrific new full-length "Elsebound," a 13-track collection of twangy gems.
Working the guy-girl vocal dynamic to perfection, True North soar highest on keepers "Hard Place," "Be Here Now," "Twist in the Wind," "The Poet & The Carpenter," "Shiny Black Shoes," "BFD" and "Come See What I Got for You." This is contemporary bluegrass at its very finest. (Jeffrey Sisk, for Pittsburg in tune))
 ______________________________________________________________________________________________________________________________________________________________________________
Rambles.NET, http://www.rambles.net/trinity14_true14.html
—————————————————————
True North ELSEBOUND
Hearth Music May 19, 2014
www.hearthmusic.com
"We were now about to penetrate a country at least two thousand miles in width, on which the foot of civilized man had never trod," reflected Meriwether Lewis on entering the Pacific Northwest. "The good or evil it had in store for us was for experiment yet to determine." With these words Lewis set forth the cultural foundation of the Pacific Northwest: a drive to explore and to tread further. It's a cue taken seriously by Pacific Northwest indie-bluegrass quartet TRUE NORTH on their most recent release, ELSEBOUND, an American roots exploration of the unknown territory of love and loss.
Hailing from Salem, Oregon, True North is made up of two married couples: principle songwriter Kristen Grainger & Dan Wetzel, and Dale Adkins & Suzanne Pearce Adkins. The songs on their newest album, Elsebound, lay a roots music foundation so smooth and solid you could just about pitch a tent and call it home.
All seasoned bluegrass musicians, True North are anything but showy. Their skill lies in their ability to make complex instrumentation sound effortless, exemplifying the pinnacle of modern bluegrass. "What many groups lose in the fire of lightning-fast solos, True North exemplifies with style and artistry," says roots music writer and No Depression editor Kim Ruehl. Their arrangements are woven together with Grainger's poetic and visual lyrics, giving the songs a rare sense of emotional transcendence and power that grabs the heart and pulls it out to sea like the mighty Columbia River. Grainger's songwriting and songcraft has garnered top honors at Wintergrass, and finalist spots at Telluride Bluegrass Festival and Kerrville Folk Festival song competitions. Elsebound begins with Dan Wetzel's banjo, a crisp yet gentle tone that opens up an expanse like that which once stood before Lewis & Clark, soon entered by Grainger's vocals. On "Rattlin' Bones," Grainger's smooth voice invites like a siren to the deep, tight, underlying power of the Adkins' bass and guitar. And while true to their bluegrass traditions, True North aren't afraid to fold popular work into their music, having been known to reimagine rock songs with their unique musical perspective during live performances, or referencing the Beatles in Elsebound's "Be Here Now," a heartfelt song chronicling the story of two lovers from their honeymoon until death. Closing out the album is the sublime "Acceptance," an original tune by Grainger, in which repeated listens reveal layer after layer of complex instrumentation so well crafted you're convinced you've known this song since you were a kid, but had simply forgotten it until now.
True North blaze new territory in contemporary bluegrass, not trying to reinvent the wheel, but simply traveling a bit further than others might dare to go. With every chord change they take another step deeper into the frontier. With one listen to Elsebound, you'll want to see where True North go next.
______________________________________________________________________________________________________________________________________________________________________________________
True North General Reviews
Reviews
Salem, Oregon's True North play tunes so smooth they bring to mind bluegrass-pop artists like Alison Krauss and Union Station, as well as old country legends like Hank Williams, Sr. Employing all the musical specifics of the bluegrass genre, True North embarks on instrumental solos with earnestness and humility.
One of the strongest songs on the album, "Til I Have You," is a heartfelt love song, stating simply, "I got nothing to my name but a strong desire." Vocalist Kristen Grainger sings with such poise and clarity that her vocals hold their own strong place among the supporting instruments. Tim Darby and Dale Adkins roll into their deliberate guitar solos with absolute ease, while bassist Suzanne Pearce keeps the beat pumping sweetly in the background.
From there, True North moves into great original bluegrass tunes like "Sweet Desiree" before veering into another direction with "Limbo" halfway through the disc. Here, the bass line drives the tune and the harmonies that pepper the chorus are followed appropriately by the sweet longing of a brief guitar solo. The song ends with a line that most country songwriters would kill to have written: "She's in limbo between a stone and a state of grace."
Grainger's lyrics are introspective, capturing bits of small town life in vignettes that are purposeful and infectious. True North is able to veer from its bluegrass influences to embrace country-pop balladry with open arms. What many groups lose in the fire of lightning-fast solos, True North exemplifies with style and artistry. (Self-released)
– Kim Ruehl, West Coast Performer Magazine
"They [True North] are the perfect modern bluegrass band… Focusing around the terrific lead vocals of Kristen Grainger, the band shows what can happen when great songs meet great singers… This is a band making wonderful musical choices. They are going deeper than mere instrumental wind sprints and reworked standards. Highly recommended."
— Grammy-nominee Kate McKenzie
"Kristen [Grainger]'s vocalizing exhibits the intensity of a singer with breathtaking ability comparable to Laurie Lewis… The band is emerging in the Northwest as one of the most endearing and passionate contributors to the Northwest's acoustic folk repertoire. Their craftsmanship and focus squarely put the emphasis on original material, deliberative arrangements, graceful guitar, and gorgeous vocals."
— Joe Ross staff writer, Bluegrass Now

"The band sounds quite good, and [Kristen Grainger's] singing is lovely."
– Laurie Lewis, Grammy award-winning artist

"True North's Pluck proves that you don't need a big label or large budget to produce a fine album with first class sound. If you like your folk or bluegrass with a mellifluous edge, give True North's Pluck a listen."
— Steven Stone Vintage Guitar Magazine
"By far the strongest point of this band is the songwriting of members Kristen Grainger and Dan Wetzel, putting up four more great tunes this CD. 'Til I Have You is a great opening song, tasty and very easy on the ears. Next is an excellent rendition of KD Lang's Luck In My Eyes, right on and cool. Desiree McRae is a cooking bluegrass tune with guest Keith Arneson on the 5-string, drivin' right along. What a neat groove the band finds on Friday Night, soooo cookin'… a perfect ending for a fine CD… Pluck is a hot CD with an excellent mix of bluegrass and near-bluegrass tunes with excellent recording values."
— Uptown Bluegrass

"Kristen Grainger and Dan Wetzel share in the lead vocals and are especially effective on "'Til I Have You" and "Friday Night." In all, "Pluck" is a pleasant assortment of contemporary bluegrass that should expand the musical reputation of True North."
— Bluegrass Unlimited